Contrast-induced nephropathy (CIN) is a form of kidney damage in which there has been recent exposure to medical imaging contrast material without another clear cause for acute kidney injury. Among patients who develop AKI after angiography, Contrast-induced nephropathy must be distinguished from cholesterol emboli. Renal atheroemboli are generally characterized by one or more of the following
The presence of other embolic lesions (such as digital ischemia of the toes) or livedo reticularis.

Transient eosinophilia and hypocomplementemia, although these findings are not observed in all patients with renal atheroemboli.

Delayed onset of kidney function decline, often days to weeks after angiography (whereas contrast-associated AKI [CA-AKI] develops within 48 hours of angiography).

Protracted course with frequently little or no recovery of kidney function.
Know about Contrast-Induced Nephropathy vs cholesterol emboli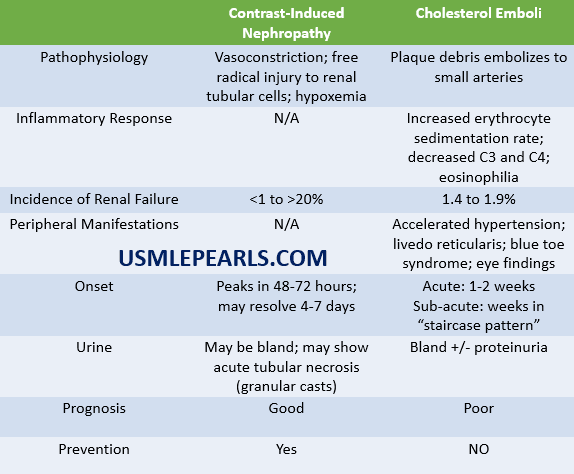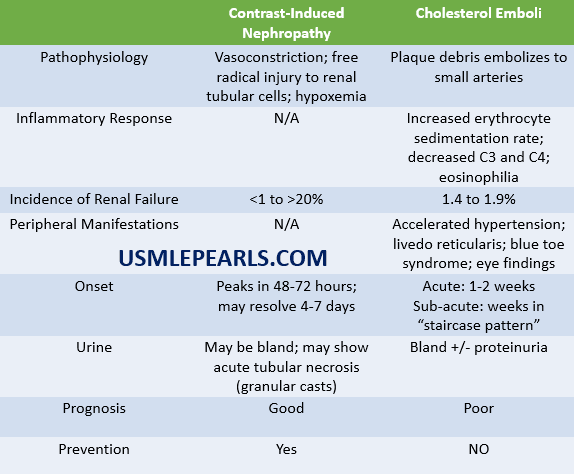 References: