Mitral valve prolapse (MVP) is defined as the presence of excessive or redundant mitral leaflet tissue due to myxomatous degeneration of mitral valve leaflets and/or chordae tendineae. The redundant leaflet(s) prolapse toward the LA in systole, which results in the auscultated click and murmur. Some patients with mitral prolapse have findings of a systemic collagen abnormality like Marfan or Ehlers-Danlos syndrome.
In these conditions, a dilated aortic root and aortic regurgitation may coexist. In many persons, the "degenerative" myxomatous mitral valve leads to long-term sequelae and is the most common cause of mitral regurgitation in developed countries. It is common in females between 15 and 30 years; however, severe mitral regurgitation caused by prolapse is more frequent in older males than young females.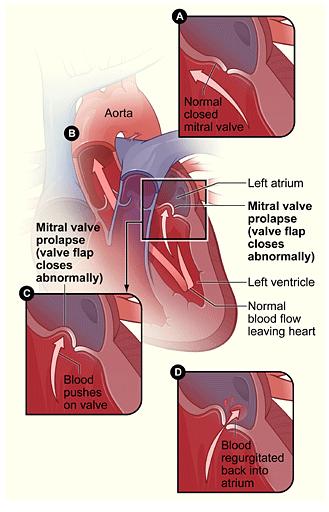 Clinical Features
Symptoms

Asymptomatic
Atypical chest pain (precordial, stabbing)
Palpitation (due to ventricular ectopics, supraventricular tachycardia, ventricular tachycardia)
Syncope or presyncope (lightheadedness, dizziness)
Orthostatic phenomena (orthostatic tachycardia, hypotension, and arrhythmias)
Fatigue
Rarely, symptoms of left ventricular failure like exertional dyspnoea, orthopnoea and paroxysmal nocturnal dyspnoea in patients with severe mitral regurgitation
Rarely, sudden death
Rarely, transient ischaemic attacks
Signs

Some patients have mid systolic or late systolic click without the murmur; others may have the systolic murmur without the click.
Standing and the Valsalva maneuver increase murmur and click intensity because these maneuvers reduce LV chamber size, allowing the click and murmur to occur earlier in systole.
Squatting decreases murmur and click because it increases LV chamber size, thus delaying the onset of the click and murmur.
Investigation in Mitral valve prolapse
Most patients are asymptomatic, so diagnosis is typically made on the basis of the murmur and echocardiography alone.
Patients with symptoms of arrhythmia require ambulatory ECG monitoring.
Treatment for Mitral valve prolapse
If the patient is asymptomatic, reassurance.
For chest pain, palpitation, anxiety or fatigue, β-blockers have been useful,
Surgery is rarely required. The condition is generally benign.
Surgery is required for significant MR, a flail leaflet caused by a ruptured chorda, or marked chordal elongation.
References